29 juin 2009
mister kawaii
La fusion parfaite entre le genre humain et le kawaii a été réussie
à Kobe, Japon. Ce "panda-man" est un ami, et c'est le seul
panda fumeur connu à ce jour… Respect, Kaz, you just look great !
When do you expect to come to Paris, with this cute style ?
Guest star at Les Combustibles !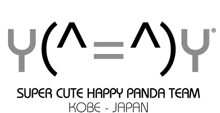 Commentaires
Poster un commentaire